Includes two main modules:
Сorporate law;
Contract law
+ 3 modules to choose from:
IP Law;
IT & FinTech;
Commercial Law;
Property Law (Real Estate);
Financial Law;
Competition Law;
Labor law;
Family Law.
+ Speaking club, during which students will be able to pump the skills of communication and argumentation in professional discussions, on the topics:
Contract and Сorporate law;
Financial Law;
IT and FinTech;
IP and Startups.
The classes use authentic materials developed by Cambridge University methodologists and legal linguists.
Classes are held 2 times a week for 90 minutes.
The cost is UAH 6,000. for three months.
Business English is a course in business English, which includes 14 main topics, as well as the opportunity to choose additional ones for your field of activity:
Business Communication;
Business Meetings;
Business Negotiations;
Business Presentations;
Time Management;
Team building;
Job Interviews;
Management;
Company Culture;
Business Strategies;
Competition;
Innovation;
Business in different cultures.
+ Training in the format of the Cambridge wind exam (Business English Certificate).
After the course you will be able to pass the exam at the B1-B2 level in the Cambridge English Language Assessment examination center with our partners - Boyko Author's School.
What gives a BEC certificate?
For professionals: entering the international market, recognition of companies in different countries, significant improvement of communication with foreign partners, employment advantage / opportunities for improvement.
For students: access to academic mobility programs, advantage in internships and / or employment, readiness for English language exams at the university, development of necessary soft skills.
For teachers: indefinite confirmation of your qualifications, compliance with the requirements of higher education institutions, the opportunity to speak at international conferences, the development of skills in writing articles and lectures in English.
The course covers 4 aspects of training:
Speaking - conducting business negotiations, interviews, meetings, presentations, briefings, press conferences;
Reading - reading books, articles and reports on business topics;
Writing - drafting business correspondence, memoranda, offers, letters of motivation, resumes and CVs;
Listening - listening to business lectures and presentations, dialogues between the partner and the investor, the customer and the executor, discussions.
Classes are held 2 times a week for 90 minutes.
The cost is 8000 hryvnias. for three months.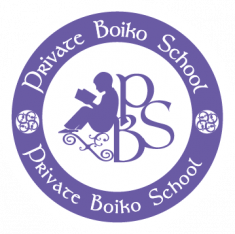 UVK "Author's school Boyko"
70
Graduates have contracted in the industry
31
The company participated in certification
75
Lectures were read by top US companies